Top Blackjack Online Casinos
Roxy Palace Casino

Roxy Palace has a very good reputation and a fantastic customer service. Your first deposit will be matched up to $100. A selection of more than 20 Blackjack games makes Roxy Palace the casino for Blackjack lovers. We are sure you will find your winning game. Wagering requirements for Blackjack are a bit stiff, but your cash balance can be withdrawn at any time.

Play now Blackjack at Roxy Palace!


Be aware of the new 6:5 rule
There is a new trend casinos are using to take more money from you – the 6:5 Blackjack rule. They disguise the fact that it is an extremely disadvantageous game for Players by highlighting the fact that only a single card deck is used. Naturally, you would think that, because only 1 deck is used, your chances of winning are greater, but this is not the case! Why? Because Blackjack usually pays 3:2; meaning if you bet $10, you get $15 back. However, with the 6:5 rule, you will only win $12 with a bet of $10.
Let's look at this rule at bit in more detail.
A Blackjack hand will occur in approximately 4.8% of hands. A good blackjack player places on average 1 bet per minute for every hour playing perfect basic blackjack strategy. The house edge here is 0.5%, but with the 6:5 rule, the house edge increases from 0.5% to a whopping 1.4%; an unbelievable increase of 37% to the casino! But what does this all mean in dollars and cents? Let's take a $10 player using perfect basic strategy at 60 hands per hour; his expected loss is $3 per hour. The expected loss for the same player on a 6:5 game is an additional $8.35. So, you see how quickly your bankroll will go down if you play 6:5 Blackjack. We, therefore, advise you not to waste your hard-earned money on any Blackjack game that pays less than 3:2 for a Blackjack hand. In fact, if you see the 6:5 rule at any online casino Blackjack table, your first inclination should be to find another table fast! The sad truth is that more casinos are playing on the ignorance of Blackjack first-timers and adopting the 6:5 rule. Don't be a fish – don't get caught with this bait! Because, chances are casinos, whether online or offline, will gradually begin to remove the 3:2 tables and replace them with 6:5 tables.. We're taking the Jeffrey approach of "Caveat emptor" — "let the buyer beware" and imparting this knowledge to you so you don't fall victim to 6:5 rule, which we consider is Bad Blackjack by any standards!
Before you play Blackjack make sure you play 3:2 version. You'll be amazed to see how tweaking this one rule will dramatically increase the house advantage.

Blackjack Basics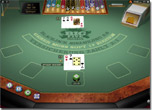 with Surrender at
Roxy Palace
While there are many variations of blackjack, the basic rules are very simple and easy to master. If you're a beginner, you can learn to play quickly and start enjoying the game immediately. No wonder blackjack is one of the most popular games in the world. What's even better is that most online casinos offer you the opportunity to learn to play for free!
The aim of blackjack is to beat the dealer by getting cards whose value equals 21 or is as close as possible to 21 (without going over), and higher than the value of the dealer's cards.
Card values:
Spot cards (2-10) = the value of the card

Face cards (jack, queen, king) = 10

Aces = 11 or 1 (whichever gets you closest to 21; a dealer's ace is ALWAYS valued 11)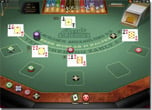 Multiplayer at
Spin Palace
Here's how it works:
Each player (there are usually up to five players at a 'table', whether you're playing in a real casino or online - but remember, you're only playing against the dealer) including the dealer, is dealt two cards to start. If your first two cards are an ace and a face card or a 10, this is blackjack and your payout will be 1.5 times the amount of your bet. Add the value of your cards. You can ask to receive as many more cards as you'd like by hitting (the only exception is when you double down) or you can decide to stand. If your hand goes over 21, it is bust and you lose your bet. If your first two cards are of equal value, you may split your hand, in which case you will be playing TWO hands and will have to place a bet on the second hand equal to your original bet. If you decide you would rather not play this hand, you can surrender, in which case you will lose only half your bet.
In general, the dealer must hit if his cards equal 16 or less, and must stand if his cards equal 17 or more. If both a player and the dealer have hands with the same value, it is considered a tie (known as a push) and the player gets his wager back. That's basically it - you're ready to start playing! To choose a casino where you can practice your blackjack for free, click here.
Blackjack Glossary
blackjack - also known as a natural 21; when the first two cards a player is dealt are an ace and either a face card or a 10, this is known as blackjack. This hand beats 21 achieved with three or more cards.

bust - when the value of the cards in a hand exceeds 21.

double down - you can double your bet but are allowed only ONE card in addition to your original two.

hit or hitting - to draw another card. You may draw as many cards as you wish.

push - when a player and dealer tie. The player gets his bet back.

split - If the first two cards you are dealt are equal in value (e.g. two face cards), you may split your hand into two hands, in which case you will have to place a bet on the second hand which is equal to your original bet.

stand - keep the cards you have without drawing another one.

surrender - a player may decide not to play a hand, in which case he loses only half his bet.
Game Strategy
Blackjack is one of the casino games where a strategy will increase your odds to win. By playing your cards to a mathematical optimum you will minimize the house edge. It will still remain a game of luck, but with the elimination of the human factor your chances are higher to finish your next blackjack session with a positive balance.
Our Blackjack Expert is sharing his Strategy.
Bringing Down the House
Are we not all dreaming about breaking the bank at casinos. The movie 21 is based on a true story of the MIT Blackjack Team. Mike Aponte and his team of highly trained players were on the way to break the bank....At great story and a good movie. Read more
Click here to find out more about Video Poker.