History of Online Casinos
I'm sitting here trying to recall a time when online casinos didn't exist. It seems like so long ago but, in actuality, the passage of online casinos are as recent as 1994. That was the year that the Free Trade and Processing Zone Act was passed in the small Caribbean island of Antigua and Barbuda. This Act allowed licenses to be granted to online operations wanting to operate casinos on the Internet and made Antigua and Barbuda one of the online gambling industry's most popular licensing jurisdictions. Thanks to broadband connections, innovative software developers which pioneered the development of online gambling, and the Free Trade and Processing Zone Act, online casinos made their way into the homes of thousands of online Players and have become a way of life now for millions of people.
Nearly 500 legalized online gambling sites, the majority of which are online casinos. exist to date and have many franchises, affiliates, and subsidiaries. Revenues generated from online gambling are in excess of $18 Billion per annum. This is possible because of the wide offering of games. For online casinos this includes Baccarat, Craps, Roulette, Keno, Slots, Video Poker and the ever popular Progressive Jackpot games. Many persons, myself included, prefer online casinos to Brick and Mortar casinos (B&M casinos) because they offer a better house advantage. Let's take a brief look back at the life and times of online casinos.
In 1994, after the passing of the Free Trade and Processing Zone Act, Microgaming, the world's largest online entertainment software provider, was founded. Cryptologic soon followed suit in 1995 and included online monetary transaction processing to their portfolio. Also in 1995, Internet Casinos, Inc., or ICI, opened the world's first online casino. They operated out of Turks and Caicos and their casino boasted 18 casino games and online access to the National Indian Lottery.

The year 1996 saw many new developments in online gambling. The Gaming Club and Intertops Casino, or Intercasino as it was later called, were launched. Where The Gaming Club failed, Intercasino thrived, building a reputation synonymous with reliability, high security, and fast payouts. Intertops also introduced the first online Sportsbook. This launch was received with mixed reviews - skeptics questioned the safety of financial transactions and the honesty of the owners whom they could not see and avid gamblers were thrilled at the prospect that this new wave of gambling could bring. Also in 1996 Boss Specialtidningar AB, the parent company of Boss Media, announced that they were developing a full-service online entertainment operation. Microgaming sold their existing casinos and began to develop Internet casino technologies. Cryptologic began the development of their revolutionary eCash payment system. The Interactive Gaming & Communications Corp. (SBET), which was a publicly traded company on the NASDAQ stock exchange, opened the second online Sportsbook, with the intention to launch an online casino. SBET also offered telephone calls to Antigua on toll-free lines via satellite. And Sol Kerzner developed Atlantis, the first online casino to offer themed games. Atlantis was able to operate legally with a license from Isle of Man.
Over the next few years, the online casino industry continued a steady growth and more online casinos and Sportsbooks cropped up with the promise of better software programs and built-in payment features. In 1998, Migrogaming left mouths agape, when the launched Cash Splash, the first-ever online progressive jackpot. Also in 1998, a report by Frost and Sullivan revealed that online gambling had generated revenues of an astounding $834.5 Million! Sen. Jon Kyl, the U.S. Congress's primary opponent to online gambling, introduced the Internet Gambling Prohibition Act, which made it illegal for any company to offer an online gambling product to U.S. citizens. That bill and its revised version which was reintroduced in 1999 both failed to pass.
Microgaming again set the precedent in 1999 when they collaborated with Price WaterhouseCoopers to review and report on casino payout percentages. Also in that year, Lasseters, the first Australian government-licensed online casino went live. Boss Media revolutionized online gambling with the launch of their new multi-player software, allowing multiple Players to play the same game at once and to chat with each other at the game tables. During the 4th Quarter of 1999, Christian Capital Advisors announced that nearly 700 online casinos were accepting real money wagers.

The dawn of the new millenium began a new era for online casinos. More Progressive Jackpots were introduced. The Isle of Man began to offer online casino licenses. Cryptologic began to trade on the NASDAQ stock exchange under CRYP. The Interactive Gambling Moratorium Act was passed by the Australian Federal Government. This Act made it illegal for any Australia-based online casino or Sportsbook, not operating prior to May 2000, to operate. This meant that Lasseters was the onlin online casino based in Australia that could operate legally under this new law. In 2001, The Sands of The Caribbean paid out over $400,000 in winnings to a Progressive Slots player player. Around this same time, the Alderney Commission, due to a law passed for Interactive Gambling, was able to accept and process online gambling license applications.
During 2002 and 2003, the online casino industry faced significant challenges when laws restricting wagering online made it difficult for people to participate in this pasttime. Independent expert Organizations such as eCOGRA and Technical Systems Testing (TST) were appointed by online casinos to perform audits to support online casino wager legitimacy. In 2004, Microgaming increased its gambling suite to over 250 online casino games. In 2005 their Progressive Jackpot totalled more than $160 Million and had over 5,000 Players. In that same year, a Florida resident won nearly $2 Million playing Gold Rally, one of the Progressive slots at Carnival Casino.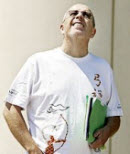 Whether you're an online gambler or not, you would remember the arrest of BetOnSports CEO, David Caruthers, in July of 2006. This move by the US Government left the entire gambling community in awe. Caruthers was charged with tax evasion and a host of other charges and BoS was prohibited from taking bets from US citizens. In September, the US Senate passed the Unlawful Internet Gambling Enforcement Act 2006 (UIGEA) after the bill was attached to the Safe Ports Act. This Act was passed in response to 9/11 to prevent terrorist Organizations from using online casinos to launder money. It was signed into law on October 13th and financial institutions were prohibited by law from transferring monies to online casinos on behalf of their Players. thus began the fall of the large online operations, which had to close their doors to US Players. The UIGEA made exceptions for horseracing, state-run lotteries, and fantasy sports and banned American financial institutions from processing any transactions with online gambling Operators.
The following year, NETeller pulls out of the US and loses approximately two-thirds of their business and online casinos are forced to close or consolidate their operations due to the loss of the US Players. It was reported that more than 2,300 online casinos and other gambling operations closed their operations. That same year, Barney Frank, a US Congressman, kickstarts legislation to overtun the UIGEA. In 2008, Microgaming pulled out of America. This left Real Time Gaming (RTG) and Vegas Technology, formerly Odds On, to brand their products in the US market.
The bills introduced by the US government are still not enough to put online casino fans at bay and the industry continues to generate revenues to the tune of $49 Billion! As the industry grows so do the laws to subside it, but I personally find it hard to believe that any of these laws will be enough to completely outlaw online casino wagering in the US or any country for that matter. So, if online Slots are your game of choice, I say go on and drop virtual coins into the slot machines! Or if Blackjack is your flavour, you can be sure to find several online casinos to appease the appetite or play free online video poker. Also ensure that you find out more about become an Online Casino VIP by joining casino loyalty program on offer. If you have a problem or question, Toll-free help is only a phone call away. But if you're not keen on telephoning, you can get assistance 24/7 via email or the ever popular Live Chat feature.