Online Casino Loyalty Programs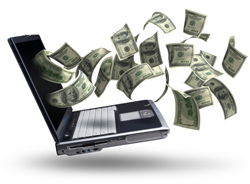 The online casino industry is a competitive one, and casinos offer a variety of bonuses and promotions to attract players. They also have incentive schemes known as loyalty or rewards programs or clubs which help them to retain players' loyalty.
Once you become a Real Money player at most online casinos, you will either automatically be enrolled into their loyalty club or rewards program or at a few casinos you will be invited to sign up as a member.
Loyalty programs generally work like frequent flyer miles, only casinos offer you points for every Dollar, Euro or Pound that you spend playing at the casino. In general, for every $/€/£1.00 you wager, you will earn 1 or 10 loyalty points. The actual points to dollars wagered ratio does vary from one casino group to another but at the end of the day, all tend to be equally rewarding. So really loyalty programs boil down to the fact that the more you spend, the more you earn. Casinos do however also offer regular promotions where you can earn additional loyalty points by participating or playing a selected game.
Loyalty points accumulate as you play with you need to do anything at all, and eventually you will be able to redeem them for casino credits or real money. Some casinos do have limits that you need to reach before loyalty points can be redeemed, so always make sure that you read the terms and conditions associated with these programs to avoid disappointment.
You will also discover that as with wagering requirements, certain casino games will contribute more to earning redeemable loyalty points than others, for example, scratch cards and online slots usually count 100% towards earning points but table and card games like Blackjack generally earn fewer points.
Always ensure that you keep an eye on your points as they do expire at some casinos if you don't redeem them within a certain period. Some casinos have a year expiry date while others, especially those where points are earned during promotions, may expire within as little as 90 days.
You can check your loyalty point's balance by logging in to your player account and visiting the "My Account" or "Cashier" section of the console. If for some reason you are unable to locate your loyalty point's balance, contact the casino's customer support staff who will be able to direct you to it and tell you how many points you have.
Casino Loyalty Programs are generally structured according to tiers and the higher up the scheme you climb, the better the benefits and rewards you'll receive including increased numbers of loyalty points during promotions, free entrance into VIP slots and blackjack tournaments, restricted access lucky draws and giveaways as well as your own personal account manager. Also, once you are at the top of the Casino Loyalty ladder, you may be eligible for entry into the casino's VIP Club, which is by invitation only and offers a casino's special VIP players' exclusive benefits.
With entry into online casino loyalty programs being free to join, playing regularly at a specific casino and being loyal to their brand can be exceptionally rewarding.